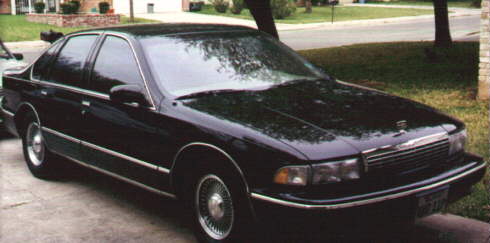 This was the way my car appeared when we first bought it. It started life out as a 1996 Caprice Classic. Fully loaded with power everything, leather seating for six, and the woodgrain interior panels. It is definitely a cruiser. It came with the LT1 engine and the "towing package". I've got lots of plans for the car.
These are my favorite pictures to date. They show the car's lines very nicely.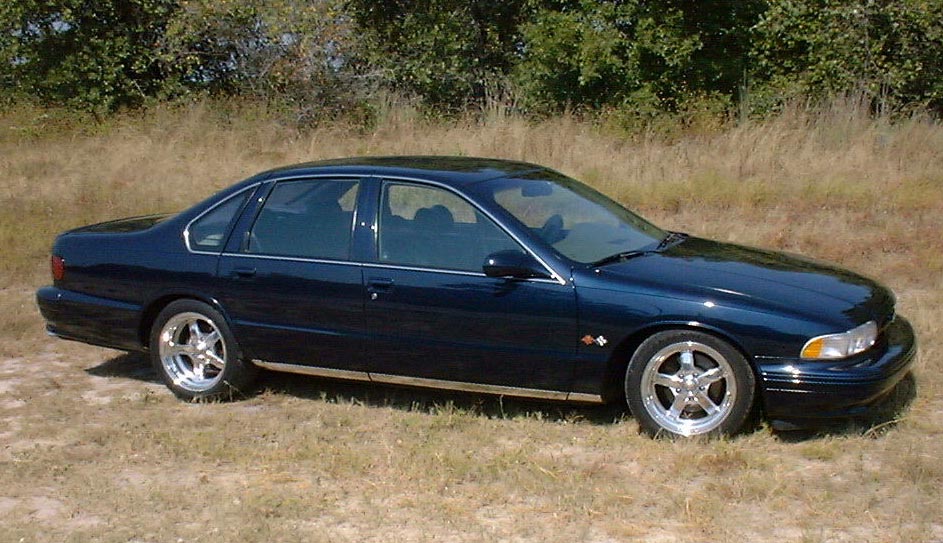 In case your wondering why the color looks a little different from the BBB Impalas, its because it is. It is a GM color, but was never offered on the Impala SS. It is Sapphire Blue Metallic. BEAUTIFUL if I do say so!
I would like to thank Bob Cannon and all the guys from Collision Specialists for an outstanding job. The car looks great and gets many compliments. We had a few difficulties with the paint on the chrome wheelwell moldings but those should be fixed in very short order (I just haven't had the time). If you are interested in their outstanding service and workmanship, you can contact them at:
*******************************************************
Collision Specialists
7926 Mainland
San Antonio, TX 78250
(210)684-6227
*******************************************************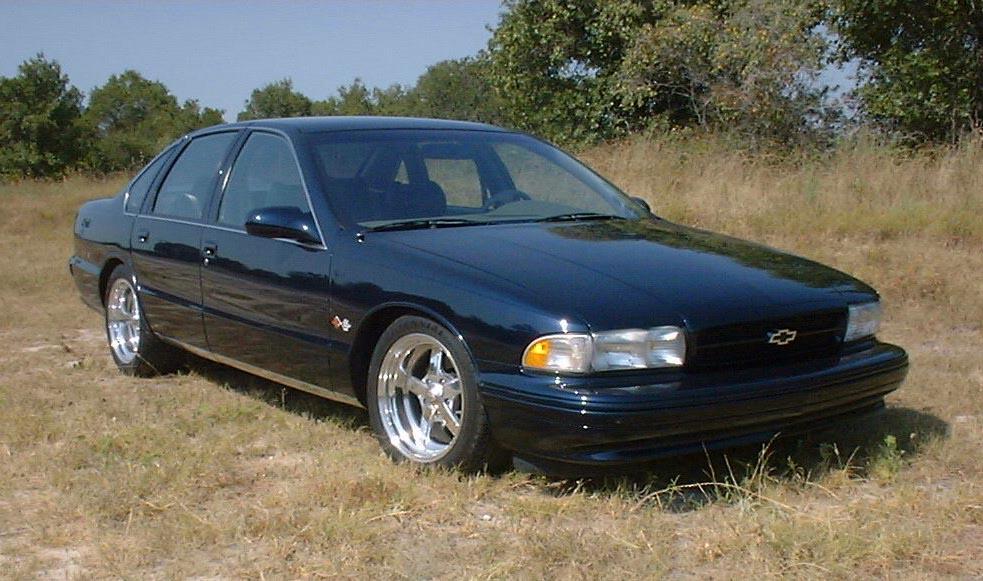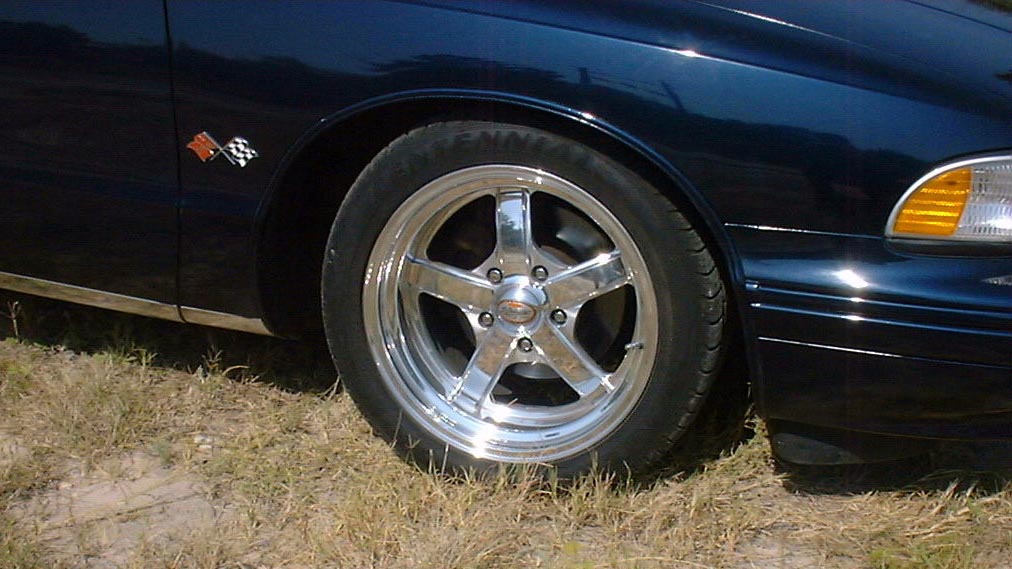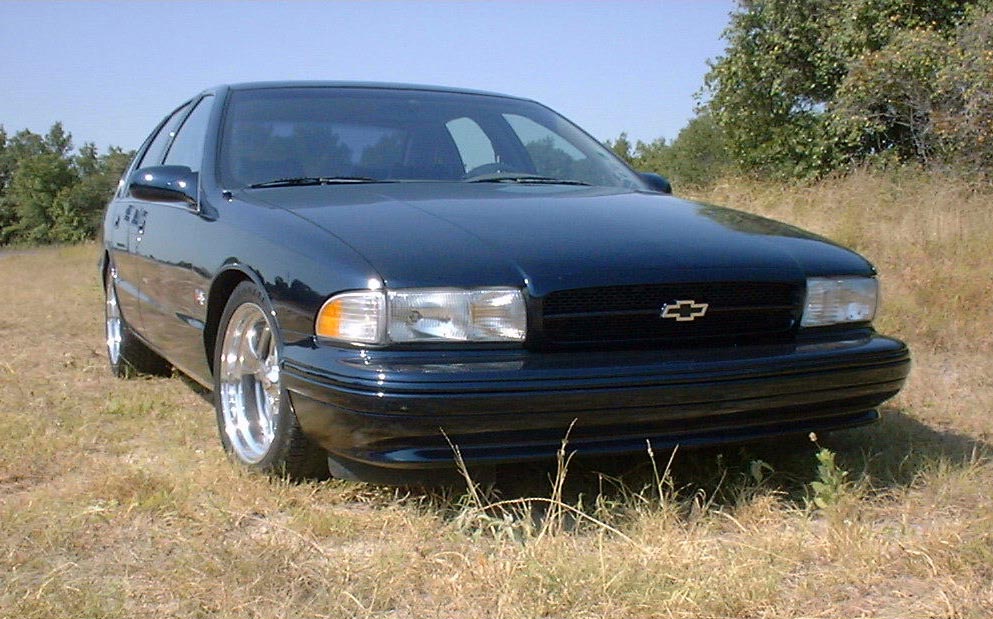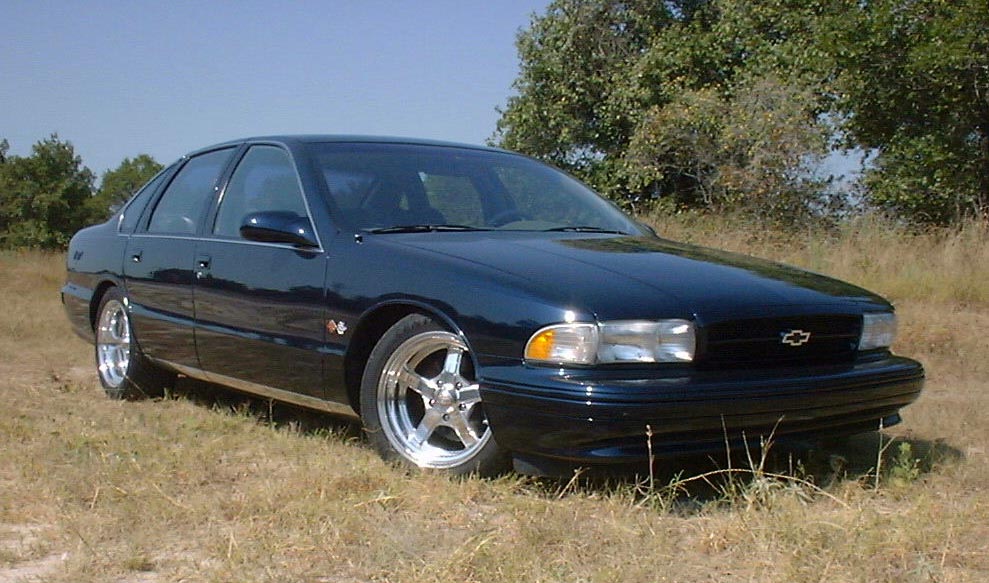 This last picture shows an example of what I'd like my center console to look like.
I have begun assembly of the forward section (where the screen is). It will house the motherboard, 10.4" LCD screen
and the hard drive. The section that rests just between the two front seats will house the power supply. The computer will run
win 98lite. It is currently a P120mhz, but in the future will need to be upgraded to run TV/DVD.
There is a lot of trial and error fitment that goes on with this, so I plan to make things as simple as possible. It will be
constructed in two sections for ease of intallation and removal.
Mods include:
* Hood ornament removal and hole filled.
* Stock front/rear springs with 1 coil cut.
* Impala SS front grille and rear spoiler.
* Entire car de-chromed (except grille bowtie and window moldings).
* Corvette crossed flags on fenders.
* B. Coddington 17x9.5 wheels and 275/40/17 tires.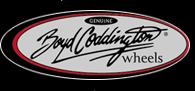 * Kenwood CD player with detachable face.



* Alpine 6X9's and Polk Audio 4x6's.
* Rockford Fosgate amp and two 10" Pioneer subwoofers in a bandpass box.
* Black carpet from Auto Custom Carpet.
* Evergreen cold air intake and home plate delete using chrome grant horn button.
* Muffler delete.
* 160 degree T-stat.
* Taylor 8mm wires.
* Sapphire blue metallic paint.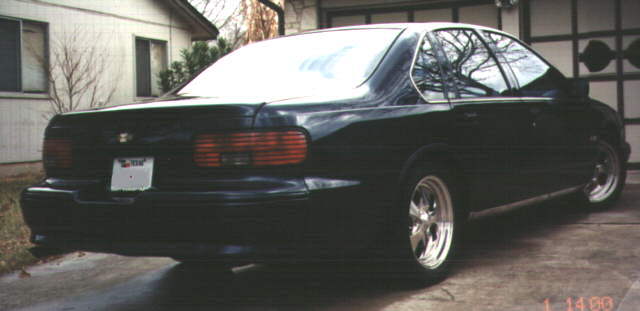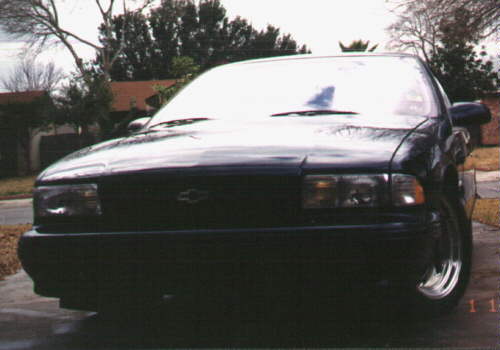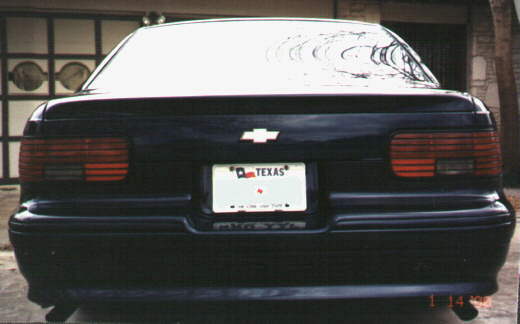 Here's a couple older pictures of the car. You can see the chrome exhaust tips exiting right out the back.
I have kept the Bowtie emblem so the car's origins are known.